wildcat88
I have survived the past two rounds of
sgahcchallenges' Last Fic Writer Standing. Here are my entries...

Round 12:

Title: Rendezvous with Destiny
Rating: PG
Characters: Sheppard
Word Count: 800
Spoilers: None
A/N: Prompt: Backstory (before S1) for any team member. Thanks to
highonstargate for the lovely banner. Click on it to go to the fic.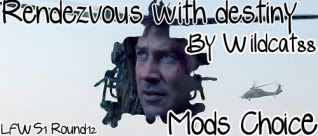 Round 13:

Title: The Stranger
Rating: PG
Characters: Dave, Team
Word Count: 900
Spoilers: Vague for Enemy at the Gate
A/N: Prompt: Tell a story in first person by a lesser used character.

The Stranger

Be sure to head over there Friday to read and vote for Round 14. Only 3 authors left!